French school in Aix-en-Provence
The French school in Aix is an international language institute with more than 50 years of experience in high-quality training in French for adults (18+). The school provides quality French instruction while ensuring a friendly atmosphere. Aix-en-Provence is a small but lively university town of Roman origin in southern France, just 35 km from the Mediterranean.
While some students learn French for professional reasons, others are attracted by the beautiful location in the heart of Provence, a perfect place for discovering the beautiful region and enjoying the mild climate. There is a weekly activity program with many options, from tours of the surroundings cooking classes, painting classes, wine-tasting, social activities, and more.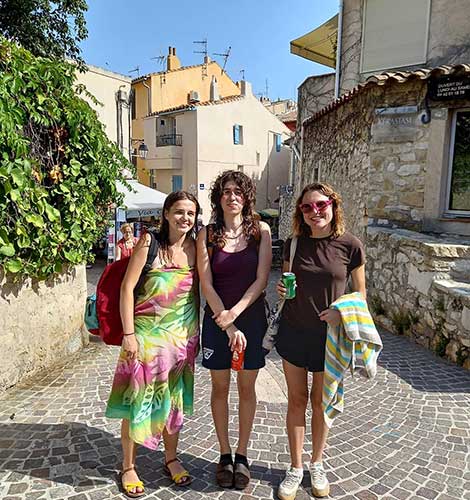 Why study French in Aix-en-Provence?
HIGHLIGHTS
School with 50 years of experience
Ideal climate
Lively university town
Explore La Provence
Interesting leisure program
Day trips to Nice, Cannes and more
What to do in Aix-en-Provence?
French courses
The French school in Aix-en- Province offers short-term and long-time French courses for foreigners. Intensive general French classes are combined with French cuisine or trips to the beautiful region of Provence. The average age in those courses is around 40 years. The school also offers long-term courses to prepare for the DELF program for young students (average age 25). All the French Classes take place in small groups (10 people maximum) throughout the year, focusing on oral communication. The minimum age is 18 years, except for the closed groups, open for juniors, school groups, and more. Qualified French teachers create a friendly and dynamic learning environment. As a result, you will obtain fluency in French and the confidence to communicate in French in everyday situations while discovering French culture and society differently.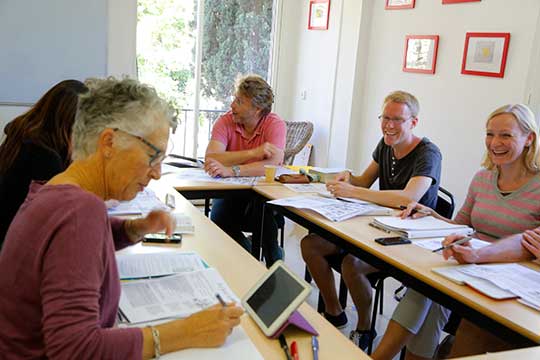 Accommodation
Living with a guest family in France is an excellent complement to your French course in France. Homestay accommodation encourages linguistic and cultural immersion. The school carefully selects families who live at a maximum of 30 minutes distance from the school (a short bus ride or walking distance. There are three meal plans: half board, breakfast only or no meals but with access to the kitchen. You can also choose to live in a student residence with private studios. The residence is on a quiet street near shopping and cultural areas. There is a reception and weekly cleaning.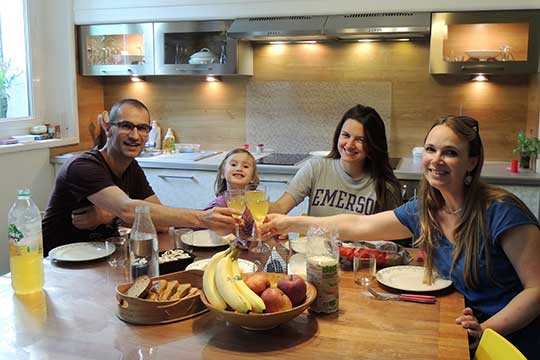 Activities
There is a weekly role for all the cultural and leisure activities that allow the students to see another side of the city of Aix-en-Provence. You will learn and discover new things while practicing your French with the locals. Our activities allow the students to interact and thrive outside of the classroom. Like homestay, it's an essential complement to their French immersion experience. Examples are a guided tour of the town, cooking classes, pastry workshop, writing workshop, hikes, and excursions to exciting places like Arles, Les Baux, la Camargue, Avignon, Cassis & the Calanques, Marseille, Saint-Tropez, Monaco, Nice, the Cannes film festival, etc. They all offer a cultural interest, an opportunity to practice your French, and a chance to get to know the other students better.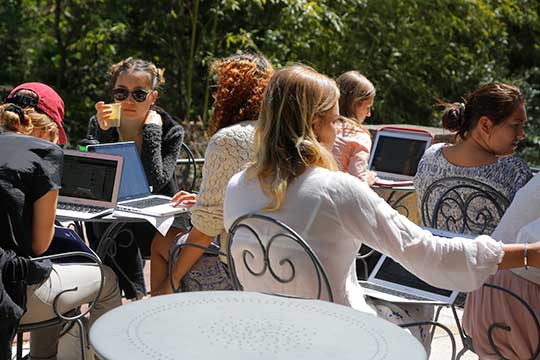 Reviews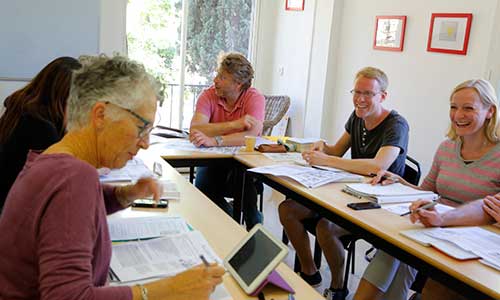 reviews Aix
The focus on spoken French was a perfect fit for me. I enjoyed my experience in Aix-en-Provence and my French language skills improved a lot.The French school and the classrooms are lovely. For me this was the perfect study holiday, Aix is an interesting and vibrant town. Highly recommended!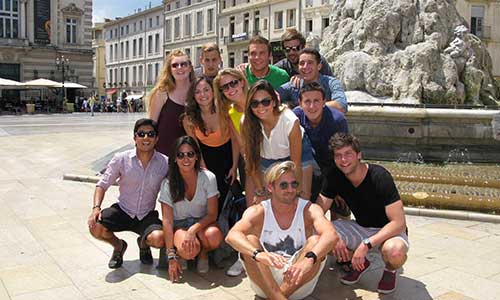 reviews Montpellier
My French and Cooking course in Montpellier was great fun. I loved the cooking sessions where you learn how to prepare French meals. The Chef was very friendly and gave us many insider tips. Really good fun and helpful, and I learned a lot of French too.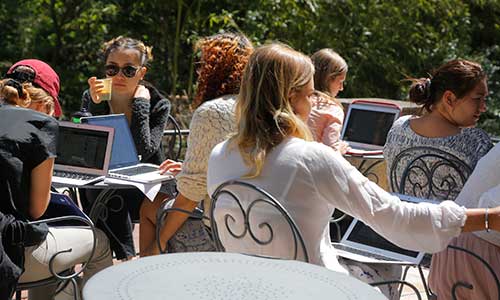 reviews Aix
The teachers in Aix-en-Provence are professional, and ensure that students exercise French speaking skills in the classroom. The classes were great, and I met lovely students from around the world. Aix-en-Provence is the perfect place to learn French. The people are nice and used to students and have a lot of patience.
Quick facts about our school