Learn French in Belgium: Practical Info
Belgium is a small country located in the heart of Western Europe, known for its picturesque cities, rich history, outdoor opportunities and beer culture. It is a great place to learn French while exploring the charming cities and the beautiful Ardennes. Belgium is a bilingual country (French and Dutch), and has a rich history. It hosts a wide range of festivals throughout the year, such as the Brussels Summer Festival. Are you considering Belgium for a French immersion course? Belgium is a small country; therefore, the important cities and towns are always a day trip away; you can also visit the neighbouring countries as France, Germany and the Netherlands.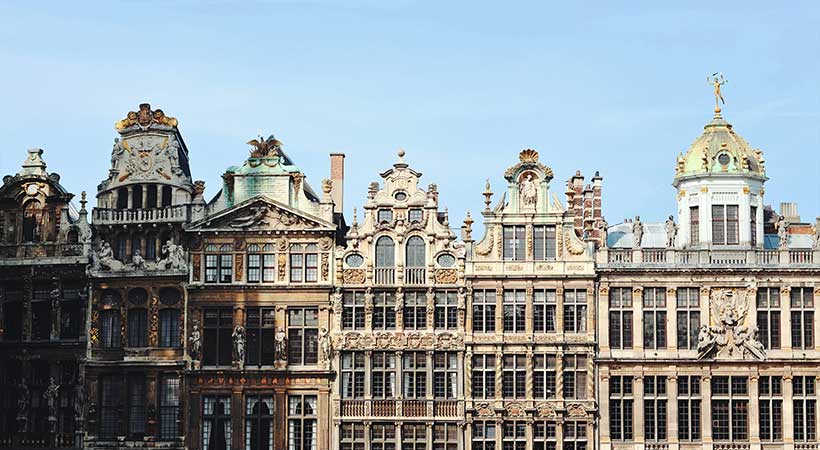 Best Tourist Attractions of Belgium
Here are reasons why learn French in Belgium:
Brussels: The capital city of Belgium is home to famous landmarks as the Grand Place, the Royal Palace of Brussels and the Atomium. While learning French in Belgium, you can explore the city's museums, visit the European Quarter and the European Parliament art galleries and indulge in the famous Belgian chocolate and waffles.
Make a day trip to often referred to "Venice of the North", the charming medieval town Bruges- a Unesco World Heritage Site; or go to Ghent, known for the picturesque canals, historic buildings, and lovely atmosphere. Take a boat tour of the canals or stroll through the charming streets or walk along the river. Ghent is a lively student town.
Visit the port city Antwerp with its beautiful architecture and the historic diamond district. Don't forget about Het Eilandje, a trendy and fascinating neighborhood in Antwerp with many nice sights such as the MAS and the Red Star Line Museum. Antwerp is famous for it's Christmas Market.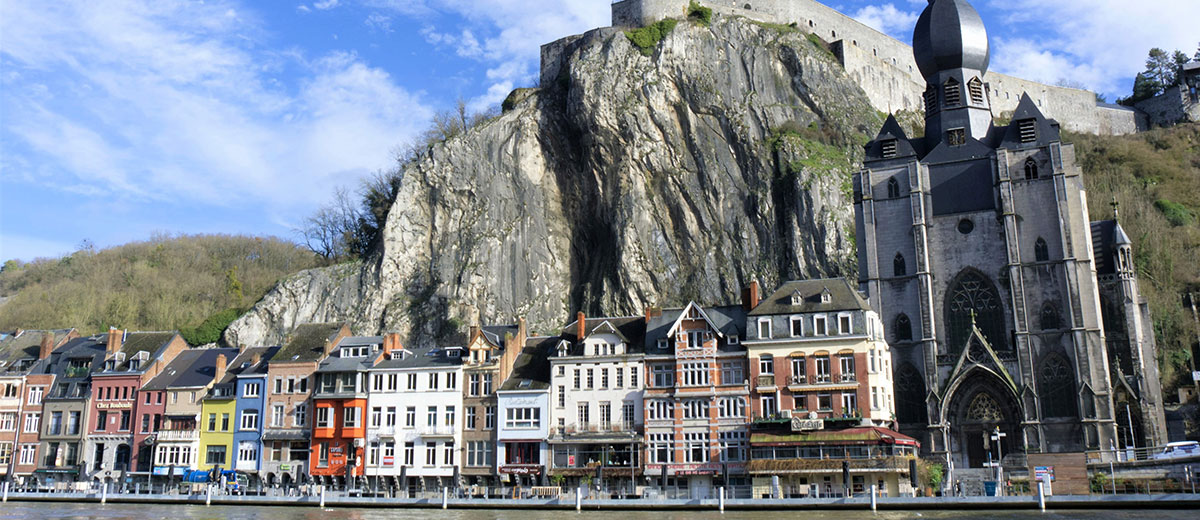 Go to the battlefields of World War I: Belgium has a rich history and has played a significant role in many of the major wars in Europea. You can go to the Waterloo battlefield and the In Flanders Fields Museum in Ypres to learn more about the country's role in World War I. Visitors can explore the trenches and war memorials of this area.
Go for a weekend to the Ardennes. This popular region is known for its picturesque landscapes and outdoor recreational opportunities such as hiking, cycling, kayaking, rock climbing or paragliding. The Ardennes is in the southeast of Belgium known for its rolling hills, forests, and rivers. Do some adventure or take a scenic drive through the region.
Architecture & Painting: Belgium has a rich architectural heritage, with a mix of Gothic, Art Nouveau and modern buildings. Admire the architecture of cities such as Leuven and Brussels. Belgium is home to many famous painters such as Jan van Eyck, Rubens and Bruegel, and visitors can discover these masterpieces of the Flemish Masters in the museums of Bruges, Ghent, and Antwerp.
Cuisine of Belgium
Belgium is known for the Belgian waffles, chocolate, beer, and mussels. Some popular Belgian dishes include 'stoemp' (mashed potatoes and vegetables), 'waterzooi'(a creamy fish or chicken stew), and 'carbonnade flamande' (beef and onion stew cooked in beer). Belgian fries, also known as "frites," are a popular snack, often served with a variety of dipping sauces. Additionally, Belgium is known for its high-quality chocolate, which can be found throughout the country in many forms such as truffles, pralines and bars. Belgium is also renowned for its beer culture, with over 1,500 varieties of beer available. Whle learning French in Belgium you will sample different types of beer at one of the many beer pubs and festivals throughout the country.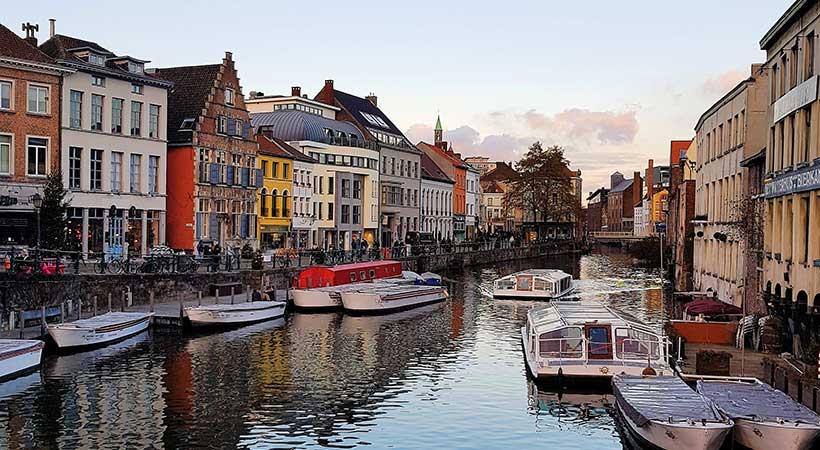 Travel tips for a language immersion trip to Belgium
Money in Belgium
The currency used in Belgium is the Euro (EUR). One euro is divided into 100 cents. Coins come in denominations of 1, 2, 5, 10, 20, and 50 cents, as well as 1 and 2 euro coins. Banknotes come in denominations of 5, 10, 20, 50, 100, 200, and 500 euros.
The weather in Belgium
The weather in Belgium varies depending on the season. In general, the country has a temperate maritime climate, with cool summers and mild winters. In the summer, temperatures can range from 15 to 20 degrees Celsius. The weather is often mild and pleasant, with occasional heat waves. In the winter, temperatures range around 0 to 5 degrees Celsius. It can be cold and damp, with occasional snowfall. Belgium tends to have a lot of precipitation throughout the year, so bring an umbrella or rain jacket, especially if you plan to come and learn French in Belgium during the fall or spring.
Practical info for Belgium
Belgium has an excellent public transportation system, with trains, buses, and trams running frequently and on time. Public transport is convenient and efficient way to get around. The metro system in Brussels, called the STIB/MIVB, consists of four lines that serve the city and its suburbs. The metro operates daily from approximately 5:00 am to midnight, with trains running at regular intervals.
Quick facts
4
Unesco World Heritage Sites
# 72
Most Populated Country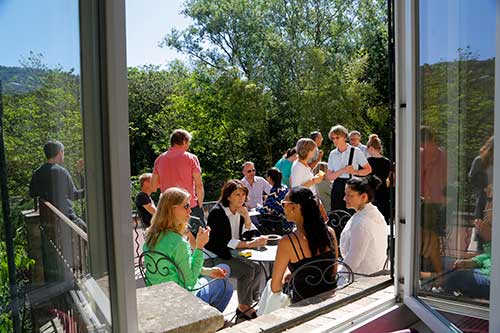 School in Aix
The French school in Aix is an international language institute with more than 50 years of experience in high-quality training in French for adults (18+). The school provides quality French instruction while ensuring a friendly atmosphere. Aix-en-Provence is a small but lively university town of Roman origin in southern France, just 35 km from the Mediterranean. …
French school in Aix »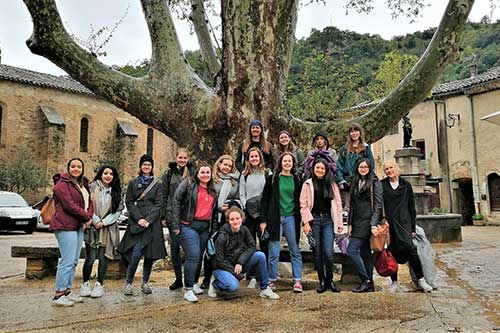 School in Montpellier
The French school in Montpellier is located in the city center in a wonderful18th century building at a stone's throw from the Place de la Comedienne and the prestigious opera house. The school is run by an enthusiastic and experienced multilingual team with highly qualified French teachers. Thanks to the communicative teaching method your French will …
French school in Montpellier »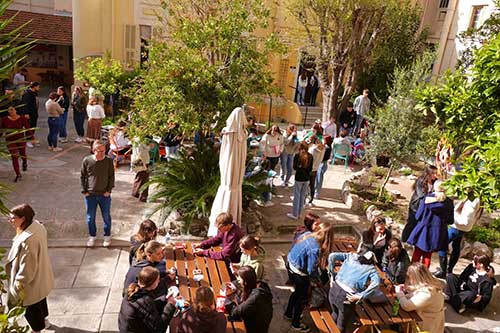 School in Nice
The French language school is located in the heart of Nice, on the French Riviera. The school is renowned for its high-quality French language courses and its exceptional location, just a few minute walk from the beach and the famous Promenade des Anglais. The school offers a range of French language courses for all levels, from beginner to advanced, and students can …
French school in Nice »