Learn French in Switzerland: Practical Info
Switzerland is a bilingual country, known for its stunning natural landscapes, rich culture, and high standard of living. Switzerland is home to the Swiss Alps, with breathtaking mountain scenery. Switzerland – where about 20% of the population speaks French - is home to natural wonders such as the Matterhorn, Jungfraujoch, and the Rhine falls. When learning French in Switzerland, you can enjoy outdoor activities such as hiking, skiing, paragliding, and snowboarding. There are also opportunities for adventure sports such as white-water rafting, canyoning, and bungee jumping. Switzerland is famous for its scenic railways and beautiful lakes, offering a chance to explore Switzerland in a unique way.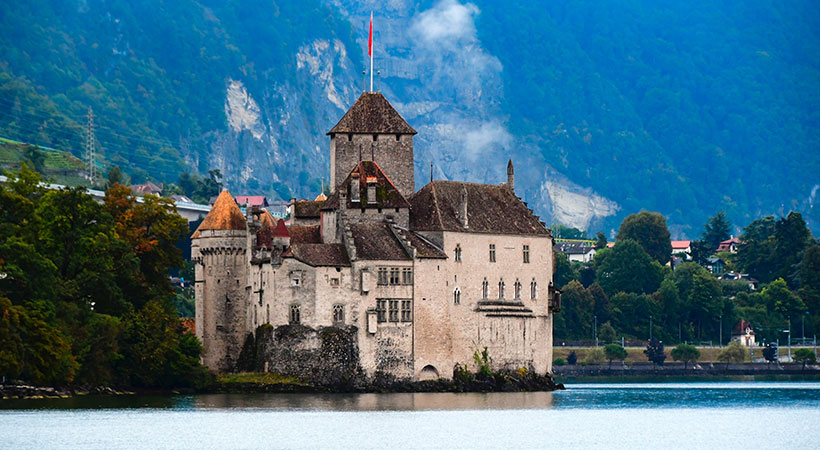 Best Tourist Attractions of Switzerland
The Swiss Alps: Switzerland's most famous natural attraction, the Swiss Alps, is home to some of the most breathtaking mountain scenery. Visitors can enjoy activities such as hiking, skiing, and snowboarding in the winter.
Jungfraujoch & Matterhorn: known as the "Top of Europe" the Jungfraujoch offers panoramic views of the Swiss Alps. Visitors can take a train to the Jungfraujoch and enjoy the views from the viewing platform. The Matterhorn is one of the most iconic mountain peaks in the world, a must-see for visitors to Switzerland.
Enjoy the lakes: Switzerland has many beautiful lakes, such as Lake Geneva, Lake Lucerne, and Lake Lugano. All the lakes are popular tourist destinations and offer a wide range of activities such as swimming, boating, and fishing.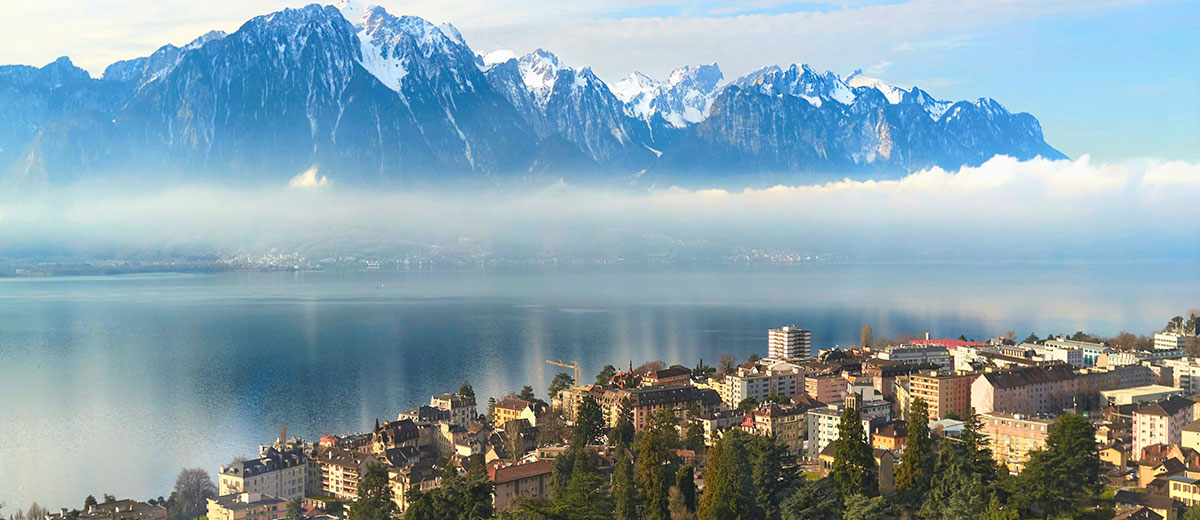 Explore Swiss cities: cities such as Lucerne, Geneva, and Bern offer a mix of culture, history, and modern amenities. Lucerne is a charming medieval town; explore the town's Old Town, visit the famous Chapel Bridge and Water Tower, or take a boat trip on Lake Lucerne.
Rhine Falls: Rhine Falls is the largest waterfall in Europe, and it's a popular destination for our French students in Switzerland. Visitors can take a boat tour to the base of the falls, or enjoy the views from the lookout platforms.
Zürich & Montreux: the capital city of Zurich is Switzerland's largest and a beautiful city, where you can explore the old, colorful architecture along the Limmat River, and visit museums and art galleries with beautiful snow-capped mountains in the distance. Montreux is located on the shores of Lake Geneva, at the foot of the Alps and it's famous for its annual Jazz Festival.
Cuisine of Switzerland
Switzerland is known for its delicious cuisine, which is influenced by its German, French, and Italian neighbors. Switzerland's cuisine is known for its high-quality ingredients and delicious flavors, making it a must-try for foodies. Famous Swiss dishes are fondue (made by melting cheese in a pot and dipping bread into it), and raclette (made by melting cheese and scraping it onto potatoes, pickles, and meats), especially in the French-speaking regions of Switzerland. Other dishes are Rösti (grating potatoes with meat or cheese), or Birchermüesli (mixing oats, yogurt, and honey & nuts). Switzerland produces a wide range of lovely cheeses such as Gruyere, Emmental, and Appenzeller. It is known for its delicious chocolate, made with high-quality cocoa and is available in a wide range of flavors.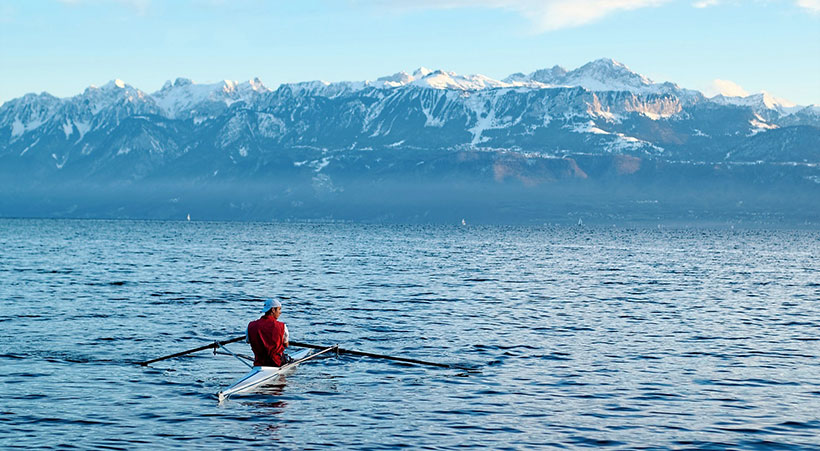 Travel tips for a language immersion trip to Switzerland
Money in Switzerland
The official currency of Switzerland is the Swiss franc (CHF). It is divided into 100 cents. Banknotes come in denominations of 10, 20, 50, 100, 200, and 1,000 francs, while coins come in denominations of 5, 10, 20, and 50 cents, as well as 1 and 2 francs. Many places will accept Euros as well but the exchange rate may vary. ATMs are widely available throughout the country, and most major credit cards are accepted in larger cities and tourist areas.
The weather in Switzerland
Switzerland has a temperate climate with four distinct seasons, warm summers and cold winters. However, the weather in Switzerland can be unpredictable.
In the summer months (June to August), temperatures can reach up to 30 degrees Celsius in the lowlands (but cooler in the mountains); this is a great time to enjoy outdoor activities such as hiking and swimming. In the winter months (December to February), temperatures can drop to below freezing, especially in the mountains, where it can be quite cold and snowy. This is a good time for skiing and snowboarding.
Practical info Switzerland
The public transportation system in Switzerland is efficient and reliable. Consider purchasing a Swiss Travel Pass for discounted travel on trains, buses, and boats. While traveling in Switzerland, be aware of the different languages spoken in Switzerland, and try to communicate in the language of the region you're visiting. Also, bring a power adapter if you're traveling with electronic devices, as Swiss outlets use different types of plugs than those used in other countries.
Quick facts
11
Unesco World Heritage Sites
Official Currency
# 123
Most Populated Country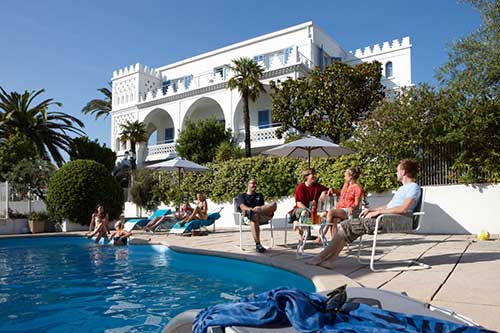 School in Antibes
The French school in Antibes is located just a few minutes from the town center in a beautiful Provençal farmhouse - typical of the South of France-with a terrace overlooking the sea, a covered courtyard, beautiful gardens, and a patio in full sun where the students relax and get ready for French class …
French school in Antibes »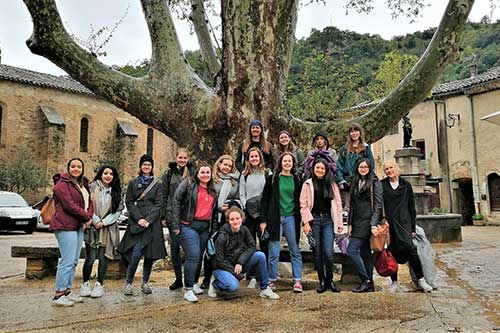 School in Montpellier
The French school in Montpellier is located in the city center in a wonderful18th century building at a stone's throw from the Place de la Comedienne and the prestigious opera house. The school is run by an enthusiastic and experienced multilingual team with highly qualified French teachers. Thanks to the communicative teaching method your French will …
French school in Montpellier »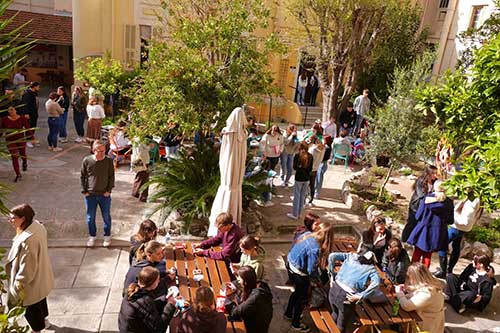 School in Nice
The French language school is located in the heart of Nice, on the French Riviera. The school is renowned for its high-quality French language courses and its exceptional location, just a few minute walk from the beach and the famous Promenade des Anglais. The school offers a range of French language courses for all levels, from beginner to advanced, and students can …
French school in Nice »