French school in Biarritz
The French language school in Biarritz is located in the heart of Biarritz on the Atlantic Coast of France, in the Basque country, with beautiful white house facades with a southern flair. It's only a 20-minute walk to the beautiful sandy beaches of Biarritz from the school and the colorful city center. You will find many trendy cafés and nice chic bars. Biarritz is a popular surf spot, with lovely beach hangouts everywhere.
The French School offers surf lessons, golf, kayak, and hikes, an excursion to Spain, and traditional villages to discover gorgeous landscapes and the captivating history of the Basque country. There are also cooking classes, BBQs, and movie nights. Biarritz is a great place to learn French and have a great time.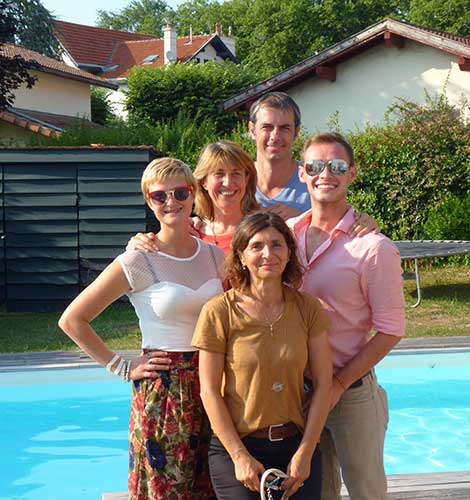 Why study French in Biarritz?
Nice school building with garden
Many trendy cafes and restaurants
Close top popular surf spots and the beach
Opportunity to go (and learn) Surfing,
Many sports and activities
Excursions to Spain and the traditional villages
What to do in Biarritz?
French courses
You will learn to communicate fluently and confidently in various real-life situations during the French lessons. The school provides a complete French language immersion. Your classmates come from different countries and will become your friends quickly.
In the group classes, you will quickly increase your fluency and improve essential skills such as understanding, speaking, reading, and writing. The teachers are all graduates of teaching French as a Foreign Language, and the friendly staff has rich experience teaching French in France and abroad. After class, you can go surfing or join other activities. Surf lessons from Monday to Friday afternoon after class; the equipment is included, and the surf lessons are suitable for all levels.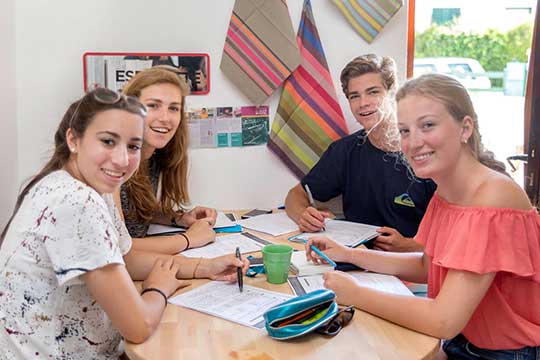 Accommodation
If you go for a whole immersion experience, a stay with a host family is recommended. The French language school carefully selects the host families in Biarritz. You will experience the French culture, traditions, and local French cuisine while conversing with the family, which will help you learn French faster. A member of the host family will meet you on the Sunday before the start of the French course. Other students prefer to live in the well-known surf house Nami where you can meet people from all over the world. The Basque house is decorated in Hawaiian or Japanese style, with a fully equipped kitchen, a comfy lounge, a garden with BBQ, a sun terrace, and much more. In addition, there is a bakery, supermarket, and food market within less than 5 min.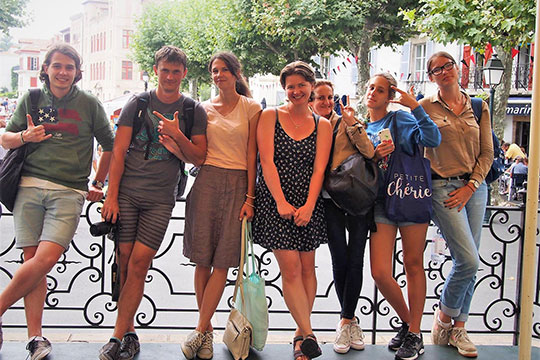 Activities
Discover Biarritz & its surroundings through sports activities or cultural outings. To make your language immersion in France unforgettable, the French School in Biarritz offers a wide range of leisure and cultural activities. Together with your classmates, you will discover our beautiful region. Surfing is one of the most popular activities, but there is more. Enjoy rafting down the river in a fun atmosphere in beautiful nature, go sea kayaking or go hiking in the emerald Basque mountains. During the cooking class, you will learn to prepare unique Basque dishes, and you can join the tours to the Chocolate Factory or the Guided tour of the Villa Arnaga- the residence of the French poet Edmond Rostand in the 19th century- and its beautiful gardens.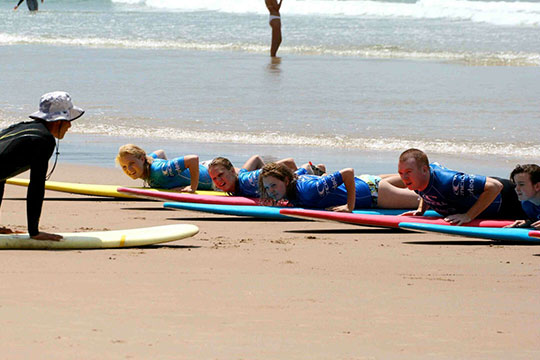 Reviews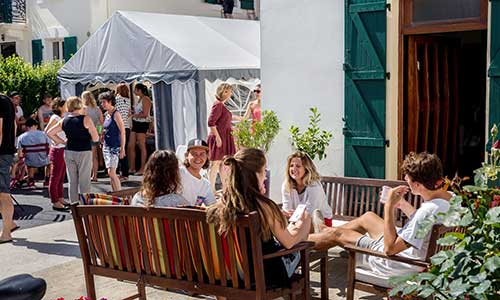 reviews Biarritz
There is a great atmosphere at this school, and the teachers are very pleasant and create exciting and instructive lessons. The needs of each individual are addressed individually by always being able to ask for help or additional explanations and tasks. The school is not too big, which increases learning progress.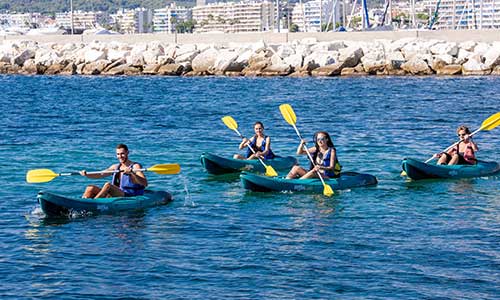 reviews Antibes
I spent three months here learning French, and I would do it again if I could. The teachers are competent, I learned so much, and the location is fantastic. The classes are not too big, and we made fabulous trips from Antibes to discover Cote d`Azur. The cafeteria was not open during my stay, but that was not a big deal; there were many alternatives in Antibes.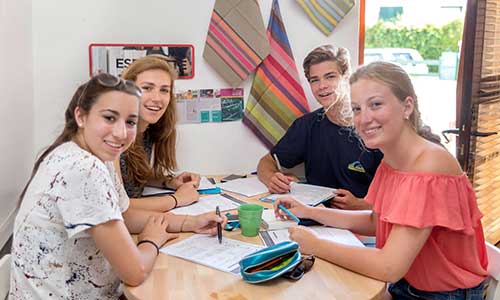 reviews Biarritz
The School in Biarritz is a great school that I can recommend to everyone! All teachers are very motivated, and the French lessons are super structured. The classes are divided according to the level. I would go back to France and to Biarritz in a heartbeat!
Quick facts about our school