Learn French in Antibes
The French school in Antibes is located just a few minutes from the town center in a beautiful Provençal farmhouse - typical of the South of France-with a terrace overlooking the sea, a covered courtyard, beautiful gardens, and a patio in full sun where the students relax and get ready for French class.
The beautiful, sandy beaches are at only 15 minutes walking distance. On the first morning, the reception team welcomes the new students with coffee and croissants. You will do a placement test to ensure you are placed at the correct level. After the first French classes, during the afternoon, the school organizes a guided tour of the town of Antibes.
The French language school in Antibes is accredited and certified by many official bodies. The French courses are based on active teaching methods and a relaxed style of teaching. The school offers a wide range of French courses for different age groups - including summer camps for kids- and French for seniors. Antibes is perfect for a French language immersion trip near the beach!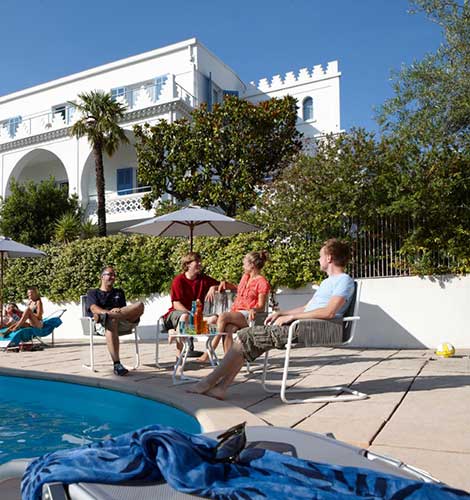 Why study French in Antibes?
Stunning school building
Ideal climate and many activities
Friendly small, beautiful town
Explore La Provence and the French Riviera
Near the beach
Day trips to Nice, Cannes and more
What to do in Antibes?
French courses
The most popular French Course in Antibes is probably the standard group course. The groups are small (maximum 12 students) and the charismatic teachers use active learning methods, and the educational syllabus places emphasis on communication. This French course allows students of all ages to improve your French while meeting other students and spending time together exploring the French Riviera. There are also intensive French courses, French with sports, French with Culture, French for the whole family and much more. The French school in Antibes has been offering French courses since 1985 and has many accreditations.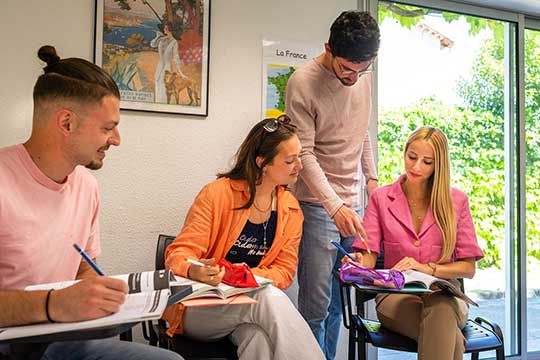 Accommodation
The French School in Antibes is one of the few French schools in France that runs its own residence for the students. Here you can share enjoyable experiences with the other students within a dynamic, international community at only 15 minute- walk from the school. The comfortable residence offers recently renovated studio apartments with shared spaces, including a sunny garden.
If you want a fully immersion experience you can stay with a French host family, a great opportunity to immersed in French culture, become familiar with French customs and receive daily support with their language learning. Host families live in good neighborhoods in Antibes and offer half board.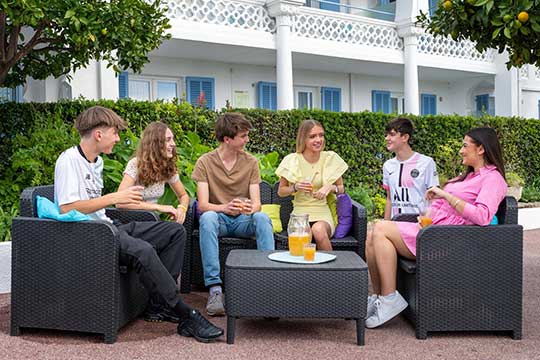 Activities
On Mondays, the French teachers and recently arrived students meet for a tour of the city of Antibes. This is a great way to meet your new classmates and get to know the city better; the ideal start to your French immersion course in France. The varied leisure program of the French school in Antibes offers countless offers, from barbecue on the beautiful beach, quiz nights, Zumba lessons, yoga sessions to sightseeing tours, water sports, French cooking classes, bowling, daytrips to the nearby cities Cannes and Nice, to the Lérins islands or the lemon festival in Menton. In Antibes, you will never be bored!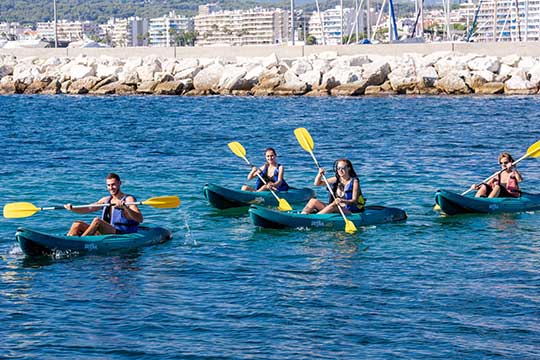 Reviews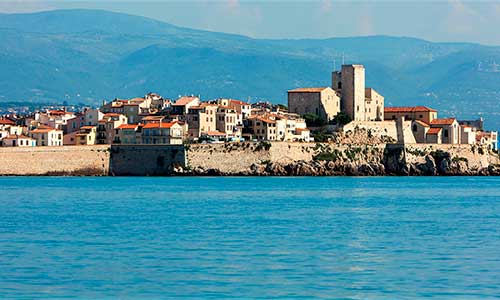 reviews Antibes
The location of this French school in Antibes was easy to get to by train or by car. The "chateau" where classes take place has a lovely outdoor terrace, and the classrooms were fine. There were only six other students in my group, which was great. Our teacher was fantastic, we had a lot of fun, and I was glad the class involved much speaking and listening. The people in my class were interesting, and we had a lot of fun in and out of class.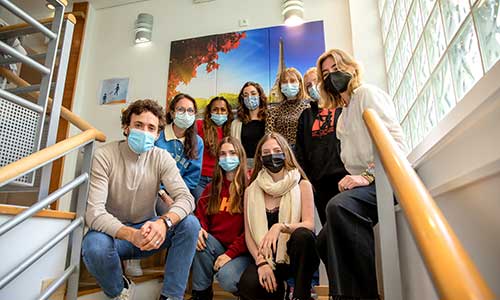 reviews Paris
I was pleased with this lovely and friendly French school in Paris, near the Eiffel Tower. The staff is very and my teacher Valerie was fantastic. Learning French here was an absolute pleasure, and I hope to be back next year. The premises are spotless, and I wasn't in a class with too many people of the same nationality, so we all spoke French. I loved my host family and could easily walk to the school, which was great.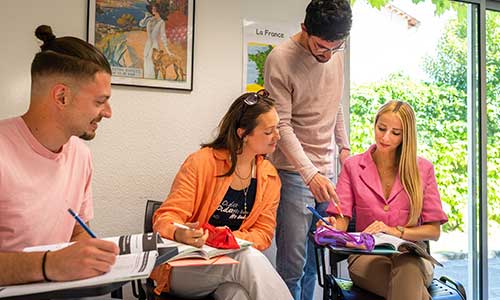 reviews Antibes
I improved my communication skills in French a lot thanks to the lessons. Paul and Andre are great teachers. We enjoyed lessons with them. There is no specific lesson material, as they have their own program and distribute copies in the class. The school was very flexible in allowing people to change courses if you think your class is too easy or too hard. I had a great time learning French in Antibes.
Quick facts about our school