Nice is a beautiful city located in the southeast of France on the Mediterranean coast known for its mild climate, beautiful beaches, and rich cultural heritage. Nice is a popular tourist destination in the French Riviera.

When you learn French in Nice you will explore the city's many attractions, including the Promenade des Anglais, a famous seaside walkway lined with palm trees and beachside cafes, the Old Town (Vieux Nice) with its colorful buildings and winding streets. The Carnival in Nice, held every year in February and is one of the biggest carnivals in the world, Visitors can see colorful floats, costumes, and street performances. Nice also offers a great opportunity for outdoor activities such as hiking in the nearby hills, swimming and sunbathing on one of the city's beaches or visiting the nearby towns like Cannes, Monaco or Saint-Paul-de-Vence.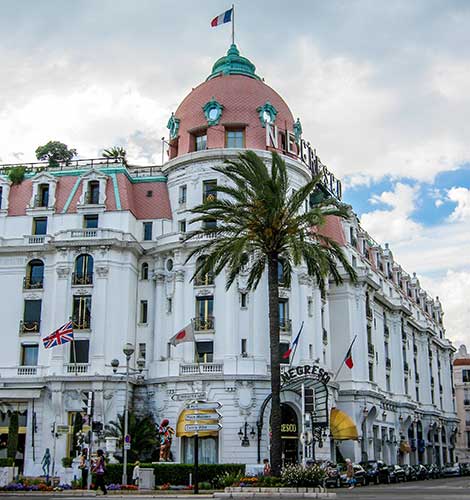 Why Learn French in Nice
# 5
Largest city
in France
28 C / 13 C
Yearly temperature
in summer/winter
0 kms
Distance from
the beach
930 kms
Distance from Paris
What to do in Nice
City Highlights & Tourist attractions Nice
Go to nearby towns Monaco and Cannes - the city of the stars or "capital of cinema". These stunning cities offer a great opportunity to "see and to be seen", while enjoying the seaside. Don't miss the Boulevard de la Croisette in Cannes, with many luxury fashion houses and private beaches with fine golden sand.
Nice is known for its beaches, and you'll enjoy swimming, sunbathing, and water sports on the pebble beaches after your French classes. A few good spots are la Plage d'Eze, with an abundance of watersports, and Villefrache-sur-Mer, at 15 minutes from Nice.
Explore the Old Town (Vieux Nice), a charming area filled with colorful buildings and winding streets, home to shops, and cafes, perfect for exploring on foot. Pass by the Neoclassical Palais de Justice; on the beautiful square Place Rossetti, you find the impressive Cathédral Saint-Réparate, a great example of gothic architecture.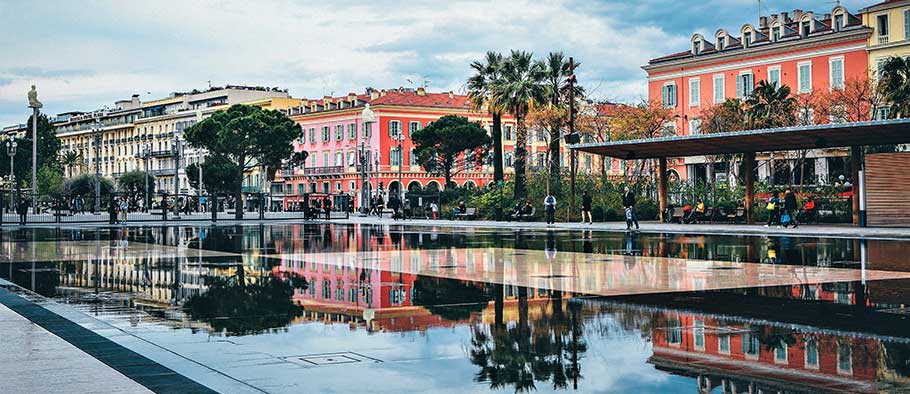 See the masterpieces at the Matisse Museum: The museum houses a large collection of works one of of renowned French artists Henri Matisse, who lived in Nice for a significant part of his life.
Visit the Castle Hill: The Castle Hill offers great views over the city of Nice and the Mediterranean sea. It's a great spot for a picnic or just for a relaxing stroll You can take the elevator or stairs to the top for a panoramic view.
Walk along the Promenade des Anglais: This famous seaside walkway is lined with big beautiful palm trees and beachside cafes and offers amazing views of the Mediterranean Sea nearby Nice.
The Basilique Notre-Dame: This beautiful basilica is a must-see for anyone interested in architecture and history. It's located in the heart of the old town.
The Place Massena: This is the main square in Nice, it's surrounded by impressive architecture and is a popular spot for locals and visitors alike to relax, shop and people watch.
The Cathedrale Sainte-Reparate: This beautiful cathedral is a great example of gothic architecture. It's located in the heart of the old town and is open to visitors throughout the year.
The Cours Saleya: This is one of the most famous street markets in Nice, visitors can find a wide range of products like fruits, vegetables, flowers, and souvenirs.
The Russian Orthodox Church: This church is a great example of the Russian Orthodox architecture, visitors can admire the colorful frescoes and the impressive onion-domed tower.
Enjoy the local cuisine: Nice is known for its Mediterranean cuisine, visitors can enjoy dishes such as ratatouille, socca, and pan bagnat.
How to get to Nice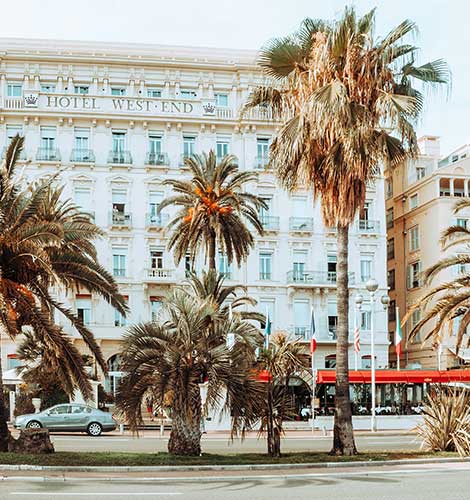 There are several ways to travel to Nice, including by plane, train, or car.
By plane:
Nice-Côte d'Azur Airport is the main airport serving the city and surroundings. There are flights to and from destinations all over the world, including major cities in Europe, North America, and Asia.
By train:
Nice is connected to other cities in France and Europe by the TGV high-speed train. It takes around 6 hours from Paris, and around 2 hours from Marseille
By bus:
Nice is well-connected by a network of roads. Several bus operators provide regular services; popular bus routes to Nice include services from Paris, Marseille, and Monaco.
Fast facts
Great restaurants and caes
Contact