Learn French in Quebec
Quebec is a beautiful town known for its rich history, vibrant culture, and stunning natural scenery nearby. The city is also renowned for its stunning architecture, including the iconic Château Frontenac hotel, one of the most photographed buildings worldwide.

Quebec is a UNESCO World Heritage Site with cobbled streets, beautiful churches, and museums. Beyond the city, Quebec boasts incredible natural beauty, including the rolling hills of the Appalachian Mountains, pristine lakes and rivers, and vast forests teeming with wildlife. The province is a popular destination for outdoor enthusiasts, offering endless hiking, camping, skiing, and more opportunities. The warm hospitality of its people and the delicious food, including famous dishes like poutine and tourtière, make Quebec an unforgettable destination for a French immersion course.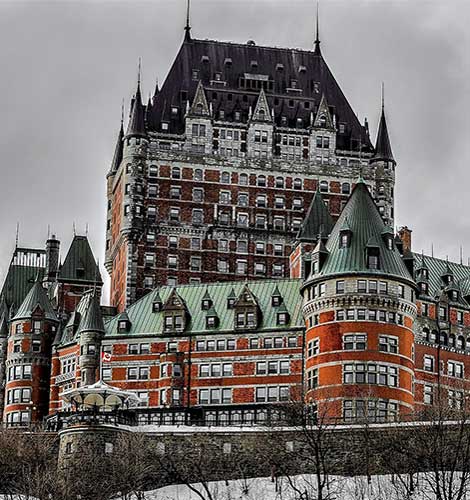 Why Learn French in Quebec
# 10
Largest city in Canada
25 C / -10 C
Yearly temperature
in summer/winter
800 kilometers
Distance from
Ottawa
What to do in Quebec
City Highlights & tourist attractions
Old Quebec: Walk through the narrow cobblestone streets of Old Quebec - a UNESCO World Heritage Site- and explore the charming city, including the Citadelle of Quebec, the Notre-Dame de Québec Basilica-Cathedral, one of the oldest in North America. Don't miss the iconic Château Frontenac, the city's landmark hotel.
Museums: Quebec is home to several excellent museums, including the Musée national des beaux-arts du Québec and the Musée de la civilization, where you can learn about Quebec's rich history, which showcases the province's heritage through a range of exhibits and displays.
Funiculaire: Take a ride on the Funiculaire, a historic cable car. It's a fun way to get amazing panoramic views of the city and the St. Lawrence River. The Funiculaire operates between the Lower Town and Upper Town and is a popular attraction.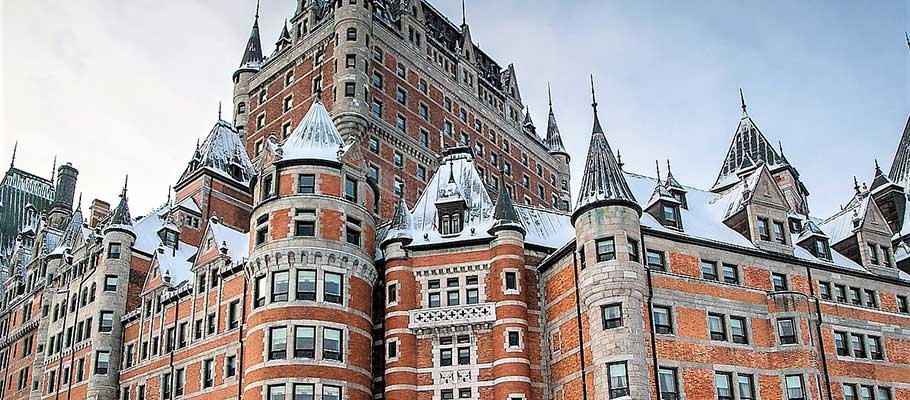 Plains of Abraham: Visit the Plains of Abraham. This historic park was the site of a decisive battle during the Seven Years' War. Today, the park offers scenic views, walking paths, and cultural events throughout the year.
Montmorency Falls: visit the stunning Montmorency Falls, which are higher than Niagara Falls, and enjoy breathtaking views of the St. Lawrence River.
La Mauricie National Park: Get out into nature and enjoy the beauty of La Mauricie National Park, a wilderness area full of forests, lakes, and rivers, perfect for hiking, camping, and wildlife viewing.
How to get to Quebec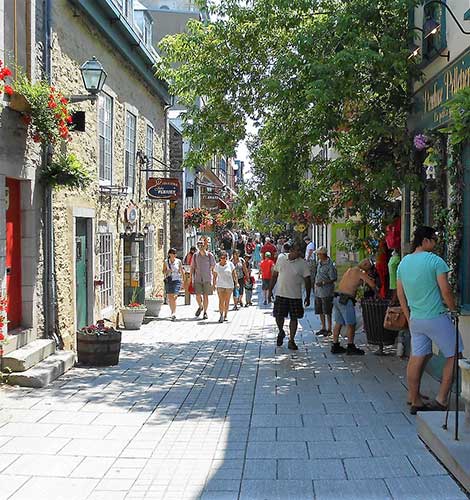 Flying:
Quebec City Jean Lesage International Airport (YQB) is located 20 minutes from the city center. There are direct from major cities in Canada and the US and some international destinations.
By car:
Quebec is easily accessible and well-connected to the rest of Canada and the US. Quebec City from Montreal: 2,5 hours by car; from Boston (Massachusetts) to Quebec city: 6 hrs by car.
Bus:
Quebec is served by several bus companies (Greyhound and Orléans Express), which offer regular bus services.
Train:
VIA Rail provides train services to Quebec City from Montreal and other Canadian cities.
Fast facts
Great restaurants and caes
Contact