Learn French in Montreux
Montreux is a picturesque resort town in Switzerland, located on the shores of Lake Geneva. Famous for its mild climate, beautiful landscapes, and rich cultural heritage, Montreux is a popular destination for a French immersion course. The town offers stunning scenery, with the majestic Swiss Alps providing a stunning backdrop to the sparkling blue waters of Lake Geneva. Montreux is also known for its famous music festival, the Montreux Jazz Festival. In addition, the town is home to numerous historical and cultural attractions. One is the Château de Chillon, a medieval castle, one of Switzerland's most popular tourist sites. Montreux is also a gateway to the countryside, with many hiking and biking trails, quaint villages, and stunning mountain vistas. With its unique blend of natural beauty, cultural heritage, and world-class events, Montreux is a must-see destination for anyone traveling to Switzerland and an excellent choice for a French language course.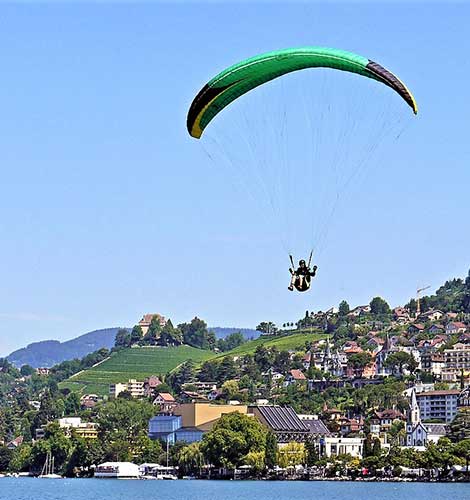 Fact Facts about Montreux
# 9
Best city in
Switzerland
24 C / 6 C
Yearly temperature
in summer/winter
0 kms
Distance from
the lake
90 kms
Distance from
Geneva
85 kms
Distance from
Bern
What to do in Montreux
City Highlights & tourist attractions
Visit Château de Chillon: This medieval castle is located on the shores of Lake Geneva and is one of Switzerland's most visited tourist sites. You can explore the castle's dungeons, courtyards, and towers.
Take a stroll along the Lake Geneva promenade: This scenic lakeside walk offers stunning views of the lake and the Swiss Alps. There are many shops, cafes, and restaurants. You can take a photo with the Freddie Mercury Statue.
Outdoor adventure: Hiking: Montreux is surrounded by beautiful mountains and forests, offering many great opportunities for hiking, skiing, kayaking on the lake, and more. The lake is also great for swimming, fishing, and sailing.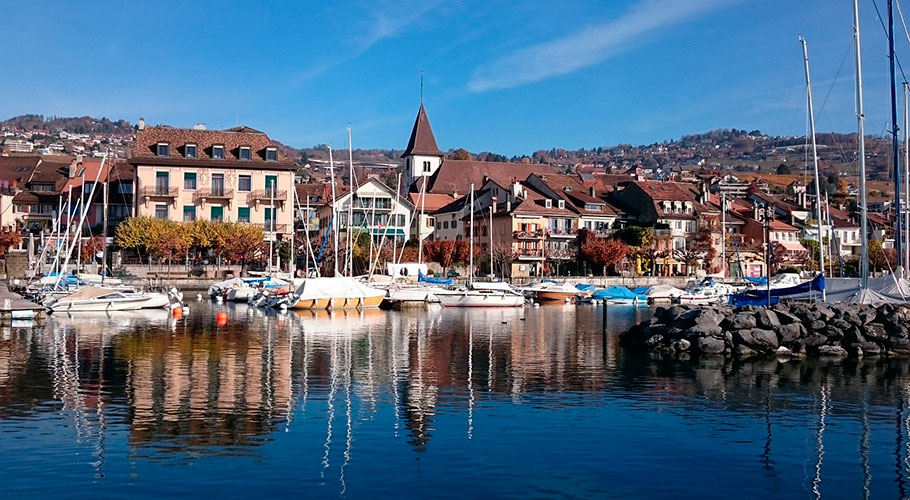 Visit one of Montreux' musea, such as the Queen Experience, the Swiss Chocolate Train: (technically a museum, but a popular attraction or Chaplin's World, dedicated to the life and work of the famous actor and filmmaker Charlie Chaplin.
Explore the Lavaux Vineyards: At This UNESCO World Heritage Site you can explore terraced vineyards, taste local wines, and enjoy panoramic views of the lake and the Alps.
Attend the Montreux Jazz Festival: This world-renowned music festival takes place in July and features performances by top jazz, blues, and rock musicians worldwide.
How to get to Montreux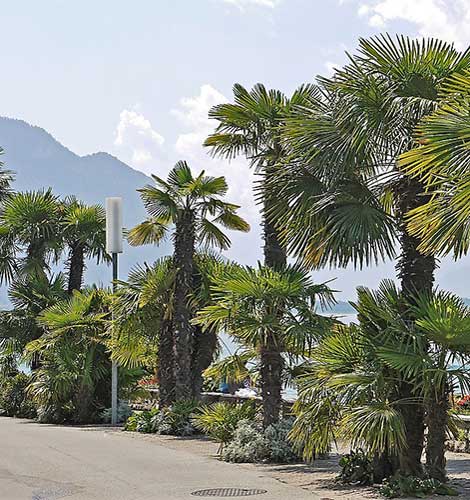 By plane:
The nearest airport to Montreux is the Geneva International Airport (GVA), which is about 90 km away.
By train:
Montreux is well connected by train from many major cities in Switzerland and other European countries. The Montreux train station is located in the city center
By car:
Montreux is easily accessible by car
By bus:
You can go by bus to Montreux from many cities in Switzerland and neighboring countries. The bus station is close to the train station.
Fast facts
Great restaurants and cafes
Contact